Text-to-Win Sweepstakes continue to grow in popularity towards the end of this year and into 2018
December 13, 2017 3:19 pm
Interest in running text-to-win sweepstakes is continuing to grow.  Not only is it very popular with alcohol beverage brands, it is gaining popularity with other consumer brands sold at major retailers.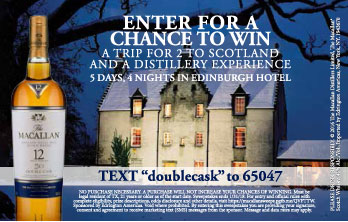 We've been working with the Republic National Distributing Company who is the second largest alcohol beverage distributor in the U.S. We worked with them earlier this year that I wrote about here when they were assisting Pernod Ricard with their Absolut Vodka and Martell Cognac Brands, each with a text-to-win sweepstakes. We're working with them again on another text to win sweepstakes as they are now assisting Edrington Americas with their Macallen Scotch Whiskey Brand. The Macallan Distillers Ltd. is a wholly owned subsidiary of the Edrington Group.

The Macallen DoubleCask Sweepstakes invites residents of Texas, 21 and older, to text DoubleCask to 65047 for a chance to win a trip for two to Edinburgh, Scotland. The prize includes round-trip airline tickets to Edinburgh, 5 day/4 night hotel accommodations in Edinburgh and a tour of the Famous Grouse Experience, Scotland's oldest working distillery. The prize package is valued at $4,000. The sweepstakes runs till January 31, 2018. Pictured above is a copy of their shelf talker and to the left is their shelf blade, both point-of-sale pieces they have created to gain awareness of the sweepstakes at various retailers in Texas.
We need to make sure that entrants are 21 years of age or older since this sweepstakes is for an alcohol beverage brand. So we've set it up that each entrant receives a message back when they text in with a link to a very brief mobile form in which they have to enter their date of birth along with their name and email address. Once completed they receive another message confirming their entry which also has a link to the official rules. By collecting mobile phone numbers, all entrants are automatically subscribed to a text messaging list in which they can receive future text messages from the sponsor and opt-out at any time.
We also have a new client that we are working with on their first text-to-win sweepstakes through our sister company, Alliance Sweepstakes, which is Fiji Water. They have decided to test the waters with text-to-win in Canada for the first time. This sweepstakes is only open to legal residents of the provinces of Alberta, British Columbia, Manitoba and Saskatchewan, 18 or older. This recently started on December 6 and runs till February 6.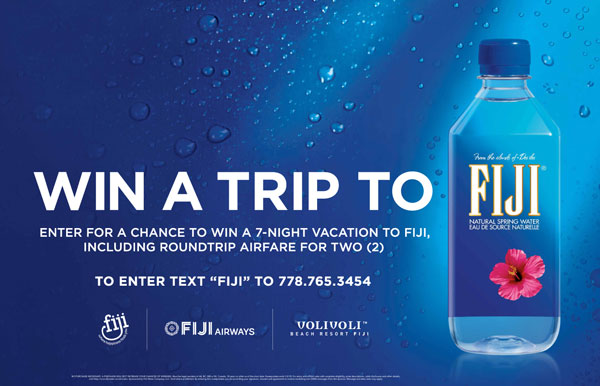 They are also giving away a trip, this one to Fiji. The prize includes 2 round-trip tickets from Canada to Nadi, Fiji Islands, 7 nights' hotel accommodations at a hotel that includes daily breakfast, lunch and dinner along with 2 excursions or activities in Fiji. The prize package is valued at $10,000 Canadian. Fiji Water is working with Mac's Convenience Stores in Western Canada to promote the sweepstakes at many of their retail locations.
We've been working with a mobile platform in the U.S. for the past couple of years called Sweeppea. Their platform doesn't work with the Canadian Carriers, so I had to find a new company for the Fiji Water promotion. I found this company,  MODI$club, who have been giving me great customer service on this first promotion. So hopefully we'll do more business in Canada with them.
I've just received approval on another text-to-win promotion for a new client that will start January 1. They have expressed interest in doing 3 text-to-win sweepstakes in 2018. We also have an existing client that has signed up for five more text-to-win sweepstakes in 2018. So it certainly seems like 2018 we'll see an significant increase in these types of promotions.
Ready to get started?
Get Your Free Consultation