Super Bowl promotions and ads from Bud Light help fans Get in the Game
January 22, 2014 7:29 pm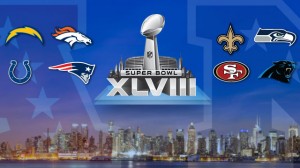 The two teams who will compete against each other in Super Bowl XLVIII on February 2 at MetLife Stadium have now been set…the AFC champion Broncos and the NFC champion Seahawks. This will be Denver's seventh Super Bowl appearance (2-4) while Seattle is in its second title game (0-1). As I was hoping, we have Payton Manning coming off the greatest regular season ever as the Bronco's Quarterback now trying to become the first Quarterback to win Super Bowl titles with two different teams. Go Denver!
All the commercial time during the broadcast of the game has been sold out for months now at an estimated cost of $4 million for each 30-second spot. The list of this year's Super Bowl advertisers includes many of the same brands that have been there each year with a few new additions. YouTube launched last week their Ad Blitz channel which gives fans a sneak peek of this year's Super Bowl XLVIII ads and lets them share and vote on their favorites. This pre-game gallery now features teasers from some of the advertisers.
If you're still looking to try and win some tickets to this year's Super Bowl 48, Bud Light has been running an instant-win sweepstakes promotion that offers a chance to win game tickets for two plus hotel accommodations in NYC at the Bud Light Hotel along with round-trip airfare via a mobile application. The Bud Light website invites fans to download their Fan Zone Mobile app to play which is available for free at either the Apple App Store or Google Play. Once fans have the app, they then have to create a Fan Zone account and play by scanning a Bud Light logo with their smart phone or tablet camera. Each fan can "play" up to three times per day under their account.
Fans can also play by going to the Bud Light Hotel website, log-in with their Facebook account and follow the instructions to click on one of the three doors to see if it unlocks a trip to the Super Bowl. I of course just picked the wrong door and was invited instead to explore the Bud Light Hotel.
This promotion is divided into two separate play periods. Period One just ended on January 17 and Period Two runs till February 3. Bud Light only gave away the nine Grand Prize trips to the Super Bowl during Period One, so we're too late for that prize.. They also gave away 60 First Prizes and have another 30 First Prizes for Period 2 which include Bud Light and NFL branded gear. All winners have been being notified instantly at the time of play. Randomly-selected times were chosen at the start of the promotion and the first participant who completed a Play on or immediately after one of these times during the Sweepstakes Period won a prize.
So either way that a person plays, they can do this multiple times a day through their mobile device. Just another great example of giving people the chance to interact with a brand where ever they are.
Being a Buffalo Bills fan who lives in western New York, I wanted to share what I learned from our local news yesterday. Former Bills Pro-Bowl player, and all-time NFL sack leader, Bruce Smith, will be featured in a public service ad for Bud Light that will urge viewers not to drink and drive on Super Bowl Sunday. Bruce was convicted of drunken driving back in 2009. He hopes to get this message out to fan. "To pull a scab off an old wound is not something anyone likes to do," Bruce says. "If this helps one person make a wise decision, it's worth it. Bud Light's ending message in the ad is to "Stay in the Game" by drinking responsibly.
Everyone please have a safe and fun Super Bowl Sunday and try and stay warm!
Ready to get started?
Get Your Free Consultation