Omni-Channel Marketing, and Shoppers, are constantly evolving
May 15, 2014 3:17 pm
Consumers are getting more comfortable using mobile devices to shop and not just for m-commerce sales, but for in-store shopping as well according, to some recent studies.
An April study from Deloitte highlighted in this article from eMarketer found that 22% of mobile users were more likely to visit a store after browsing on their devices, while 19% said they were less likely to do so. Deloitte also found that 19% of last year's in-store purchases were influenced by the use of mobile devices. This research found that the use of mobile devices before or during in-store shopping trips influenced or helped to convert approximately $593 billion in US in-store retail sales in 2013—or 19% of total brick-and-mortar sales—compared with $159 billion in 2012.
Omni-Channel Marketing, or also referred to as Shopper Marketing, is not some new trend in marketing, but like consumers (shoppers) it is constantly evolving. Combine that with the increasing number of platforms businesses can utilize to connect with their consumers, it has become quite a challenge for marketers to send effective and meaningful messages. Therefore, it is more important than ever today for brands to communicate one simple message across all platforms in order to make their message more effective and influential.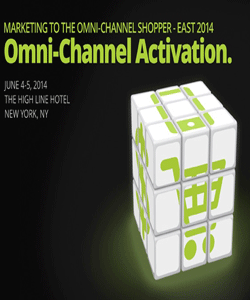 Next month the Brand Activation Association (BAA) is hosting the Marketing to the Omni-Channel Shopper Marketing Conference which will include presentations from some top brands and retailers reviewing how they filter through all the digital clutter and prioritize the pieces that are most important them.
Laura Gordon, VP, Marketing and Brand Innovation for 7-Eleven products and services in the US and Canada is one of those presenters. She will be the Day 2 Opening Keynote Speaker at the Conference in New York on June 5th. In an preview interview Laura stated "Mobile is the channel that is most critical for the on-the-go 7-Eleven customer. We have begun to invest in mobile via smart phone but there are many mobile networks that our guests participate in today, including a few that are right in our store. We are actively working to test and learn in many mobile channels in order to better adapt our understanding of the new path to purchase".
Another presenter, Mike Messersmith, Senior Director of Shopper and Experiential Marketing at Chobani, says "you can't improve what you can't measure." Mike uses insights and analytics to drive his ideas and includes hard numbers in their marketing campaign, however he believes "it's what you do differently with the data that will set you apart". Linda Crowder, Senior Director of Peapod Interactive and a BAA Board Member will be speaking on Day 1 of the Conference, June 4th. Linda believes that "the best channel is the channel(s) that is the most relevant to the ultimate shoppers. The successful organization is going to have to develop the feedback loops that allow them to be as current with the shopper 's life as the shopper."
If you're interested in learning more on the Omni-Channel Shopper Marketing Conference taking place June 4-5 at the Highline Hotel in New York City you can check out this video promo the BAA created.
Ready to get started?
Get Your Free Consultation