Infographic: Study of Content Shared by Users in Online Promotions
April 15, 2015 12:12 pm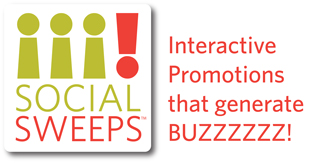 I use the term Social Sweeps to describe a sweepstakes or contest promotion that integrates with social media platforms. This helps to provide participants flexibility in accessing and interacting with a promotion. By providing these various options for users to participate, you appeal to them more positively which helps to increase the participation rate. I've always been a big believer that by utilizing social media platforms you

enable participants to share your promotion with their friends which allows them to get the word out for you faster and farther!
I came across a recent study that was conducted to learn more about how and why participants share the online promotions that they've entered on the various social platforms. The study was done by Easypromos in which they extracted data from more than 200 promotions that were running on their Premium Application from January-February, 2015, in which over 140,000 people took part.
We now get asked quite often about allowing participants to gain bonus entries for sharing which many promotions now include. For example, after a participant enters they are asked to share on Facebook, or Twitter, or Instagram and they gain additional entries for each share. However, if the promotion is being run on Facebook then you would be in violation of the Facebook policy if you encourage sharing to gain entries. Instead what most Facebook applications allow is for users to invite friends to enter the promotion and if that friend enters, the original user gets an extra entry.
The team at Easypromos created this infographic that displays the results of their study, so I thought I'd share it here. It does state that participants will share the promotion much more when they are offered an incentive, such as extra entries. Take a look.

The study did show that it was almost 50/50 between desktop vs. mobile and Facebook was the top social platform for sharing. However, on January 20th, Easypromos introduced instant messaging applications as another option for mobile users to share the promotion. In that short time WhatsApp became the second most-chosen platform for sharing promotions from a mobile device: 17.19% of shares were done through this app. So this is definitely a trend to watch.  Thanks to Easypromos for compiling and sharing the data.
Ready to get started?
Get Your Free Consultation