This Dream Holiday Contest invites you to create a Pinterest Board of the destination you are dreaming of
December 14, 2016 1:37 pm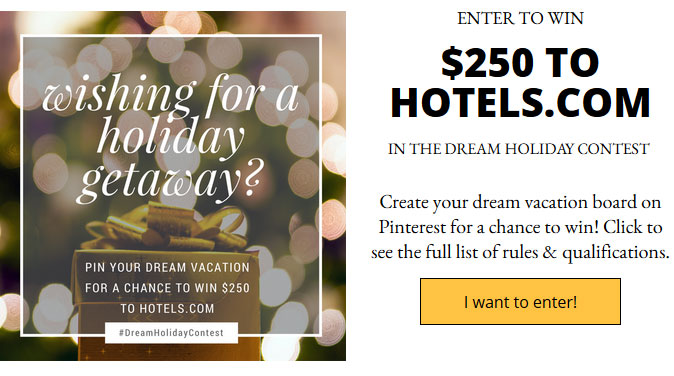 We've been working on this new holiday Pinterest contest that is awarding four $250 certificates to Hotels.com., one per week. The Dream Holiday Contest from the folks at Tokio Marine HCC – Medical Insurance Group. I wrote about an earlier promotion this same group ran back in October called the The "Choose Your Travel Adventure" Sweepstakes which offered the winner their choice of three different destinations, Reykjavik, Sydney or Florence. Haven't heard yet what destination the winner is going to.
For this new contest, participants are invited to create a board titled "Holiday Travel with Tokio Marine HCC – MIS Group". The Board should contain at least 10 pins to the theme of "My International Holiday Travel Dream Vacation". At least 3 of these pins must come from the Sponsor's website, and they recommend their travel blog which provides the most relevant content. Each pin must include the hashtag: #DreamHolidayContest. Here's a sample board that the sponsor created.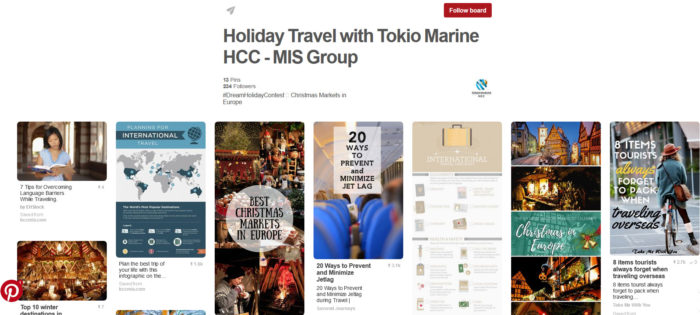 Once their board is complete, each participant must go back to the Sponsor's promotion webpage,, where they will need to fill out and submit all the required fields on the entry form along with a link to their Holiday Travel Pinterest board. They must also answer the following questions: 1) Are you planning to travel internationally in the next 12 months? If yes, then enter the trip's start date. 2) What are you most excited about this holiday season?
The contest started Nov. 28 and goes to Dec. 21, 2016, so there were four chances to create a winning board, with two of them still left. At the end of each week the judges are using the following judging criteria to review the boards: 1) Overall board theme 2) Variety of pins 3) Variety of sources 4) Striking imagery 5) Number of board followers.
Here is the board the winner of week 1 created by Marie A. in which she chose Finland as her destination. She really did a very nice job. You can click on the image to see the entire board. They haven't posted the week 2 winner yet. So pick a destination and create your Dream Holiday Vacation board.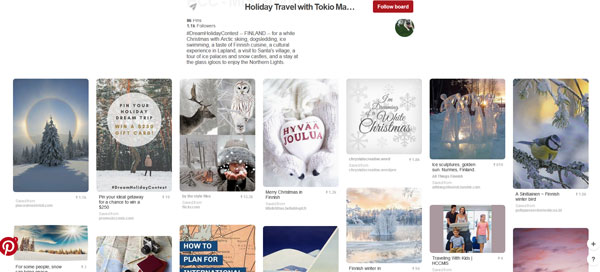 Ready to get started?
Get Your Free Consultation