What would you do with a $5,000 tax return?
February 11, 2015 3:37 pm
Football and taxes are both about as American as Uncle Sam. Moving forward from Super Bowl 49, we all in the U.S. now have to focus on tax season. Yeah. it's that time of the year when we have to file our taxes for the previous year. Those of us on the business side also have to issue W2 forms to all employees and 1099 forms to contractors, vendors as well as those who were lucky enough to win a prize!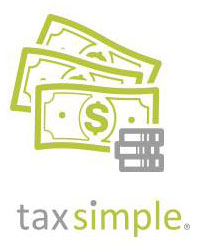 Since we're in the business of awarding prizes we have to send 1099 forms to all winner of a prize valued at $600 or more. It's our Federal government law. So each year at this time we get many inquiries from winners who don't remember why they received a 1099, even though they signed an affidavit stating that they accept the prize and understand they'll receive a 1099. Or those that won a trip and decided to tell us at the last minute.that they can't travel either because of their schedule or other personal reasons. Then of course there's those who moved and didn't forward their mail and wonder why they haven't received it!
This year our sister company, Alliance Sweepstakes,  helped launch TaxSimple's All About the Bank Contest. TaxSimple is a new online tax preparation software that is easy, fast, and low-cost. It is part of the Tax & Accounting Division of Thomson Reuters, which is the sponsor. They started running this contest on their Facebook page on Jan. 19th and it runs till April 16, the day after the tax filing deadline.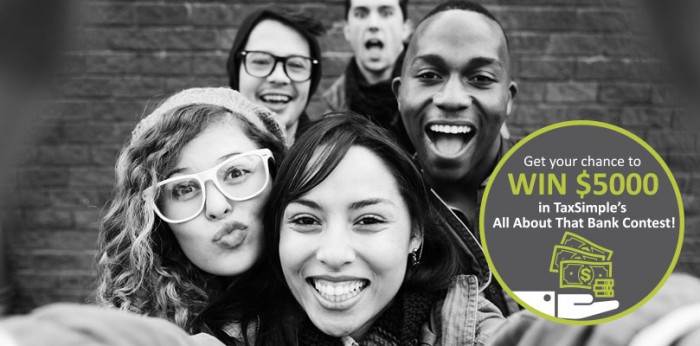 Participants are invited to visit the Facebook Tax Simple page and submit a photo that depicts what they would like to do with their tax refund this year for a chance at winning $5,000. Since the contest is heavily focused on college students, they also have the option of first posting their photo on Instagram and linking to their Instagram account from the entry form. All approved entries are displayed in the contest photo gallery and the public is invited to vote on their favorite entry.
At the end of the contest a panel of judges will choose a winner based on the following criteria: 45% public appeal (number of votes), 30% creativity and originality and 25% composition and quality. The entries have ranged from those that want to take their family on a vacation, to those who need it to pay for college as well putting the money towards a home.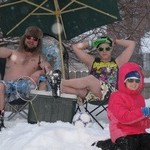 This recent photo depicts what it's like right now to live in the northeast part of this country.  Here's the caption that goes with it: "Wanna trade some snow for some sand , my girls are delirious". Yeah, we're all pretty sick of this snow by now!
Ready to get started?
Get Your Free Consultation